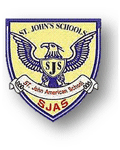 Admission Policy:
SJAS?s Admission System has been carefully set to meet a certain sequence of steps. Inquiry is answered by the Admission Deputy. This brief introduction about school capacity, fees and education system is sufficient enough to help the parents take a decision.
Policy Applied:
KG students undergo a general evaluation session by the KG Stage Supervisor. Supervision include testing capability to take part in a conversation, reply to a simple question, simple knowledge of colors, shapes, favorite food, ?..). For a 4 year old, it is more likely to be a friendly chat than an enrollment evaluation session.
After acceptance, parents are interviewed by the school principal discussing relevant information from both sides.
Parents are requested to fill in a detailed application, pay school fees and complete their file with obligatory documents.
The child is given an ID number that stays with him unchanged till he/she graduates.
Grade level applicants take Assessment Tests in both the English Language and Mathematics.
The student is accepted in school and all other related steps are carried out after passing these tests, the school apologizes for non acceptances when applicants fail either or both assessment tests. Transferred students to SJAS check class availability first before going through with the required assessment tests. When routine procedures are done, parents are given2 days to complete their files and payable fees.
Tuition Policy:
KG1 School fees for KG1 are divided into two equal installments. School fees are paid upon acceptance. Right after, parents are given one month to complete all documentation needed and pay the first installment. The second installment is due March 1 ? March 31.
KG2-G12 Admission fees are paid upon acceptance to ensure enrollment. Divided into 3equal installments:
1st Installment: 25% of total amount - due May 15 — June 15
2nd Installment: 25% of total amount - due Sep 1 — Oct 1
3rd Installment: 25% of total amount - due Dec 1 — Dec 15
4th Installment: 25% of total amount - due Feb 15 Mar 1
When paying the first installment, parents sign an official declaration that he will finalize installment payments within the mentioned due dates. Failing to meet due dates will result in:
Parents who fail to meet official due dates have to sign a Withdrawal Form at the Administration Office so that the school can use the place for other transfers, if any.
Due date for 1st Installment is May 15. The school will not consider reserving the places of their children. This will be a declaration from parents for the school to replace the places with new comers.
Refund Policy (transfer from SJAS):
New Registrations/Transfers: In case parents decide not to choose SJAS after going through all the interviews, assessment tests, file completion, legal governmental transfer documentations, internal school registration procedures and payments?the parent can refund 90% of the amount paid before the beginning of the academic year, 2500 LE school services fees will be deducted as well. If withdrawal occurs on the first school day or after, no refund is allowed.