Principal's Message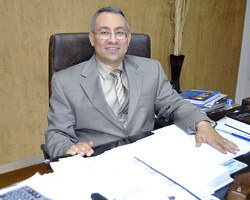 It gives me great pleasure to welcome you and your children into St. John American School where warmth, care, and nurture are spread. At SJAS, we always look forward to a productive partnership between parents and school by focusing on hosting a positive comfortable learning environment guided by proficiencies rather than theoretical expectations.
At SJAS, our children and youth are taught how to embed the 21st Century skills in their surrounding atmosphere, experiment life, secure their observations with facts and draw objective conclusions. Our chosen path incorporates ways of thinking, working, use tools and skills for accomplishing quality.
SJAS has lived through the years with great content and gratification. A lot had passed and still a lot more is welcome. We all learn from every step, from every decision, from every incident, and above all, from every accomplishment. We embrace the challenges and celebrate success. Our Vision seeks to provide SJAS children with what they can make use of during their lifelong learning experiences. We aim to challenge and motivate our students so that they may gain the self-confidence, intellect and ability essential for their mental, emotional and spiritual maturity. Through this hopeful vision, we hope to transform our students into strong, compassionate, and respectable citizens, who will contribute faithfully to their society.
To further keep our commitment to our students and to ourselves, I invite you as parents to work with us, hand in hand, side by side, not only to watch our children grow and learn, but to watch our school grow and advance. Let us share true hope so that our children would grow up being proud of their parents, their school, and most importantly, themselves.
Maher (Khalil) Girgis
School Principal.
QUALITY POLICY
SJAS staff is selected amongst the best educators in Egypt, with native-like English language proficiency. Teachers are highly qualified and experienced, creative and untraditional. The school provides �on the job continuous teacher training� to limit irregularities and gain wider experience in handling situations in the classroom and during free time. SJAS seeks to present a comfortable learning environment to easily adapt to innovative teaching methods that strengthen professional networks and encourages collaborative learning.
SCHOOL GOALS
Implement school policies to their fullest.
Maintain positive effective communication skills between stakeholders.
Increase self-esteem, self-confidence, self-motivation, self-respect of learners.
Lay strong foundation on educational systems by fostering knowledge and skills.
Strengthen the capacity and motivation of youngsters to continue learning beyond school.
Help students acquire the capability to set their own goals and foster ways to achieving those goals.